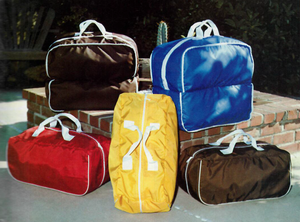 Golden Fleece Designs Inc.
The Foldable Dubble Duffle
Regular price
$54.00
$0.00
Unit price
per
It is really two bags in one! When you come back from a trip in possession of more than you left with the foldable double duffle takes over the overflow in stride. Just unzip and you have either one or two separate duffles. In Red, Blue, Yellow, Brown and Green Nylon.
Made in the U.S.A.

Size: 26" L x 12" W x 14" H

To get many and on wholesale price contact us on : +1 (818) 848-7724 or goldenfleecedesign@sbcglobal.net
---