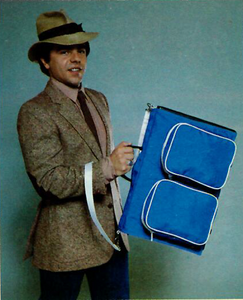 Golden Fleece Designs Inc.
The Attache Valet
Regular price
$124.00
$0.00
Unit price
per
Your attache case becomes your flight bag or sample case, or extra room for reports, forms, books, etc. It will hold one pair of pants, a shirt, a necktie, a belt, socks, shaving gear and other miscellaneous items. Four pockets in all. In adorable corder. Comes in Blue, Brown, Black.
Made in the U.S.A.

Size: 30" x 18"
Pocket Size: 16" x 9", 12" x 9" x 3", 9" x 7" x 3", 9" x 7" x 3".
To get many and on wholesale price contact us on : +1 (818) 848-7724 or goldenfleecedesign@sbcglobal.net
---